What is SCALAR ENERGY?
What is Scalar Energy?

According to the principle of conservation of energy, energy is perpetual but can be transformed. During the process of transformation, part of the energy will be converted into heat in order to maintain its balanced condition. The resultant heat produced must then be dispersed through processes such as emission or radiation, and a portion of it is converted into energy. The human body is made up of 60 trillion cells, a basic phenomenon of life. Human behaviour and activity requires energy. The major source of energy is derived from the energy produced through the activity of ATP in cellular water. Bodily cell regeneration can promote metabolism, which is beneficial to ATP functions. During the process of energy production and nutrient assimilation, toxic waste substances are produced. The unwanted toxic waste will in turn be eliminated via the processes of respiration, perspiration and excretion through the body's organ systems. Therefore, the breath of healthy people is fresh, they have clean and clear urine and non-odorous, soft stool.


More explanations about Scalar Energy CLICK HERE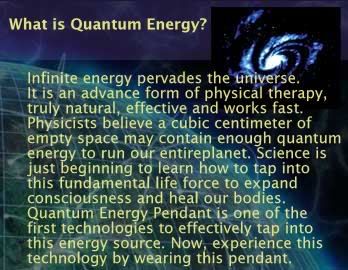 To find out more on Scalar Energy and its healing effects, click here for BARRON REPORT
Scalar Energy is more field like than wave like and it tends to fill the environment
It is capable of passing through solid objects with no loss of intensity
The Scalar Energy once embedded into an object, the energy will remain in the object indefinitely and can regenerate and repair itself indefinitely
The effect of Scalar Energy is cumulative, it gets stronger with time
Scalar Energy is capable of imprinting itself on human DNA


For a more comprehensive understanding of scalar energy, please refer to the book "Optimum Energy for Peak Performance with Scalar Energy", written by Dr. Siva Poobalasingam MD and Nisha Lakshmanan MA. For testimonials, please google keyword quantum pendant or search youtube video under keywords "quantum pendant or scalar energy pendant".


Scalar-Energy in Healing ... from The Healing Universe


---
---
The information provided at Dalimara is not intended for diagnosis or treatment of any health problem or for prescription of any medication or other treatment. Please consult your health care provider for advice about a specific medical condition.